Asset Allocation
The foundation of a successful investment plan.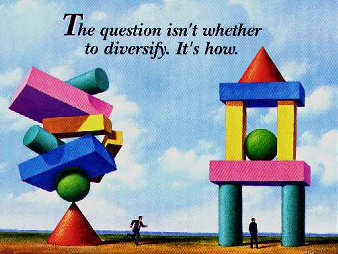 Let's face it, everyone knows that you shouldn't put all your eggs in one basket. The problem is, with so many baskets to choose from, how do you know which ones are right for you? As the illustration shows, you can diversify your portfolio and still be in a precarious situation. For that matter, you may have a diversified portfolio but not realize how risky it actually is. The solution to this problem is developing an investment strategy known as STRATEGIC ASSET ALLOCATION.
WHAT ARE THE BENEFITS OF AN ASSET ALLOCATION STRATEGY?
Manage Investment Risk. Diversifying investments across several asset classes can enhance investment returns and manage risk in a portfolio. After all, if one asset class has a downturn, another may perform well and offset declines by posting strong, positive performance.
Capitalize on Changing Market and Investor Sentiments. Positive returns are unlikely to be generated year after year by a single asset class and no investor, no matter how experienced, can consistently predict the next year's top performer. A diversified asset allocation strategy may provide opportunities within many markets and securities.
Gain Focus and Direction from a Personalized Plan. Consider the value of establishing a long-term investment program that is appropriate for your time horizon, addresses your current investment objectives and suits your current tolerance for different types of investment risk.
HOW IS AN ASSET ALLOCATION PLAN DESIGNED?
To design a proper portfolio you must first determine several important factors.
Objectives and Time Horizon - What do you hope to accomplish? How large an investment window are you looking at? Remember that this time horizon must include the accumulation period of the investment as well as the distribution phase.
Return Expectations - What are you reasonably expecting as a return on investment?
Risk Tolerance - What kind of investor are you? (Conservative, Moderate or Aggressive)
HOW DO WE DESIGN AN ASSET ALLOCATION PLAN FOR YOU?
It is our belief that successful long-term investing is accomplished by designing a specific game plan and sticking to it. We are here to be your coach - to help you make the best decisions in today's complicated investment world. By combining our expertise with today's most innovative investment products and a time proven investment strategy, we feel that we have created a true win-win investment solution.
To contact us:
Tactical Wealth Advisors, LLP
8226 Village Harbor Drive
Cornelius, NC 28031
Phone: 800-944-7730